Millions of people have fallen in love with Coin Master. It is a widely played casual mobile game thanks to its free-to-play, single-player gameplay. Since it has been downloaded more than 100 million times, it's no surprise that Coin Master is one of the most downloaded mobile games of all time.
But that's not all! Coin Master's developers have gone above and beyond to make the game more exciting for players. How you ask? By holding special events with unique and tempting rewards. One of these events is the Thor Wheel, which you won't want to miss.
In this guide, you will learn what Thor's wheel is, how to get it and many more. So, continue reading below.
Also read: How to break the Piggy bank in Coin Master?
What is the Thor Wheel in Coin Master?
In Coin Master, the Thor Wheel is an exciting event with great prizes, including a highly sought-after grand prize that is shown in a beautiful shade of purple. During special events like the Treasure Hunter event, you can play this exciting wheel of fortune.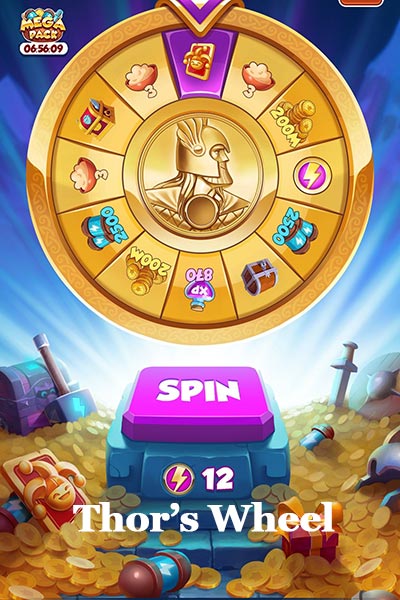 At the time of these events, Thor's Wheel replaces the daily wheel; however, there is no need to panic because you will still be able to access the regular wheel via the in-game menu. You'll need Thor Wheel Tokens instead of Spins or Coins to spin the wheel and win prizes.
Please note this exciting feature is only available for players who have reached village level 90 or above. Each reward on the wheel is different, and you can only get it once.
After that, Thor will turn it grey, so you can see which rewards are still available. But there is one exception: if you land on the grand prize, the wheel will reset, and a new wheel with even better prizes will show up.
You may like to read: How to get Brave Lion card in Coin Master?
How to get the Thor Wheel in Coin Master
The Thor Wheel is an exclusive and limited-time feature in Coin Master that gives players a chance to win amazing prizes.
To get the Thor Wheel in Coin Master, players must collect special tokens first during the event. Then, click the event badge on the Main Screen or on the Daily Bonus Wheel's lower right corner to access the Thor Wheel.
But what happens when the event ends? Fear not, players can still view the Thor Wheel and their collected tokens even after the event has ended.
The Wheel may be temporarily locked, but players can still see their tokens by clicking on the Daily Bonus Wheel badge and then finding the Thor Wheel badge in the bottom right-hand corner of the Daily Bonus Wheel screen.
Unfortunately, these tokens cannot be used until the Thor Wheel event returns to the game. So, be sure to use them wisely when the event is back!
Don't forget to read how to get Joker card in Coin Master.
How to get Thor Wheel tokens
Earning Thor Wheel Tokens is as simple as completing missions during the Treasure Hunt event or any other event that may be ongoing at the moment.
All you have to do is check the event's rewards section to see if Thor Wheel Tokens are up for grabs.
However, it's important to note that not every mission will have these tokens as a reward. But don't worry, there's a solution! Special Thunder Strike missions are available for you to play and win Thor's Wheel tokens.
The thunder strike symbol makes it easy to spot these missions, which are known for their big rewards. Although, it's worth mentioning that earning these tokens won't be easy and will require some effort on your part.
Read also: CoinMaster Boom levels list.
What's the reward for spinning Thor's Wheel in Coin Master?
It's definitely worth the effort of collecting the Thunder Strikes Tokens because the prizes are massive! You can win instant Mystery Chests, a whopping 2,500 spins, a huge boost of 1.5 million XP, a powerful triple ultra attack, an incredible 400% Coin Blaze, and an unbelievable 5 billion Coins all at once!
Usually, these types of rewards would only be available after playing the game consistently for 30 days or completing a challenging mission. Or, you would have to make purchases in the game.
But with Thor's Wheel, you have the chance to win these fantastic prizes without all the hassle. So, don't hesitate, play Treasure Hunt and give Thor's Wheel a spin for the chance to win big!
When will players be able to spin Thor's Wheel again?
The answer is during the highly anticipated Treasure Hunt event, which takes place once or twice a year. Keep an eye out for this exciting event, and mark your calendars! To stay up to date on the Coin Master Thor wheel, be sure to check the official Facebook page. Here, you'll find the latest information on upcoming events and much more! So, don't miss out; follow the Coin Master Facebook page regularly!
Finally, you have learned all about Coin Master's Thor Wheel in this comprehensive guide.