The best way to progress quickly in Coin Master game is to complete card sets. This will give you lots of bonuses and make you happy. However, finding the chests with the necessary cards can take time and effort.
There are three types of chests: wooden, golden, and magic. Wooden chests have 4 cards, golden chests have 6 cards, and magic chests have 8 cards. You can buy these chests in the game shop or get them by looting your friends.
At higher levels, you will need to find gold cards to complete your card families. Gold cards are rare in chests. There are other ways to get them, but we will discuss how to get joker card in coin master game and how to use it.
Coin Master: What is Joker Card?
The Joker card is a very powerful and magical card in Coin Master. It allows you to get any missing cards, including rare or golden ones. For example, if you are missing just one card to complete a collection, you can use the Joker card to get it. 
You should use it wisely to get rare or very rare cards that you are missing in your collection. Keep in mind that the Joker card only lasts for 24 hours, so you need to use it within that time.
Many people know about this card, but if you don't, you should learn about it. It can be very helpful. Now, let's learn about how to get free joker card.
You might be interested in: Coin Master Village Cost List.
How to Get Joker Card in Coin Master
How can you obtain the Coin Master Joker card? This card is powerful, so it can be difficult to get. You can find it in the Joker box, which only contains one Joker card. Let's see where you can get this joker card.
Get the Joker Card from Crate
The Joker card can be found in the Joker Crate in Coin Master, and many coin master events offer this Crate. To get the Joker card, you will need a lot of Coin Master spins and coins. If you have enough spins, the joker card will be easily available to you by completing an event.
Joker Tournament
You can get Joker cards in several tournaments, including the Diamond, Rose, Joker, Basket Blast, and Mystery tournaments. To have a chance at getting a Joker card, always check the rewards for the event before playing. You can obtain the Joker card by winning in these tournaments.
Coin Master Card Chests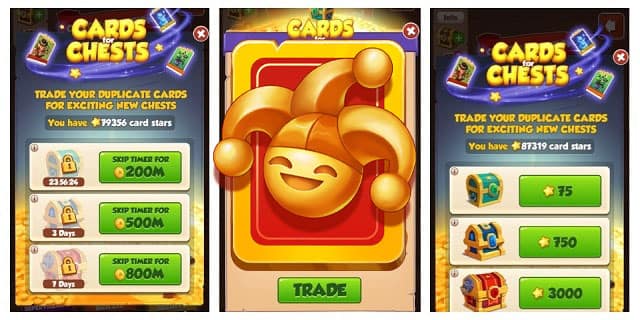 Another way to get a Joker card is from the Card Chest in Coin Master. To get the Joker card from the chest, you must be at village 110 or higher in Coin Master. If you are at this level or higher, you can open 50 card chests and receive one or more Joker cards.
How to Use Joker Cards in Coin Master?
Joker Cards in Coin Master are very popular because they can be turned into any card you want. To use a Joker Card, follow these steps:
Open Coin Master game on your mobile device
Go to the Slot Machine
Look for the Joker card icon on the bottom left corner
A list of cards will appear
Look for the box below the list of cards to see which ones you haven't acquired yet.
Choose a card you need
Click on the 'I'll Take It' button
This is how you redeem Joker Cards in Coin Master. You can also choose a Gold Card if you want. These cards are useful for completing sets and earning bonuses in the game.
Finally, you know how to Use Joker Cards in Coin Master game. Hopefully, I hope this was helpful to you. While you're here, you can check out other guides, like how to get Lenny the Lefty card in coin master or What is the hardest card to get in Coin Master.