Unturned is a free game where you can test your survival skills against hordes of zombies. You can choose different game modes, but all have the same basic concept of zombie survival. The game has five maps officially, and the Washington map is one of them.
The Washington map is filled with many opportunities to find loot and resources to help you survive in the game. Whether you're looking for weapons, food, or shelter, there are plenty of areas to explore and discover.
However, navigating the map and surviving the zombies can be challenging for many players. That's why this Unturned Washington map guide will provide you with all the information you need to know about the Washington map in Unturned. You can also check out whether Unturned cross platform or not.
Complete Unturned Washington Map Guide 2023
When you start playing on the Unturned Washington map, you will be close to a small zone, like a farm. These small places are safe and good places to begin you survival journey. You can find loot in these farms, such as clothes, basic weapons for fighting, water, food, and small guns like weak rifles and pistols. The same loot you'll find in camps. Once you have taken enough items from a few of these small farms, it's time to move on to bigger areas like small towns and military checkpoints.
You may read: How to Talk to Miguel Madrazo in GTA V
Big Cities vs Small Towns: The Pros and Cons of Exploring Washington
You might be excited to head straight to Seattle or the Military base after looting some small towns. I don't recommend this, because all these places are very dangerous and you can die easily. Instead of big cities I would recommend for going to smaller ones like Tacoma. But if you are determined to go to these big cities, don't use loud weapon. Use melee if you have.
When you go to bigger towns for the first time, don't try to loot everything you find there. Because it will take a lot of time and is not worth it. It would help if you looked for police stations, drug stores, grocery stores, and gun and fire stations. Doing this, you won't waste too much time and get good loot. Additionally, be aware that the only dangerous area in Washington is located near a golf course in Bellevue.
Military Compound Raiding
Now that you have enough loot, it's time to go to the smaller military locations, but be careful; other players will be waiting for you there. Smaller military locations, I mean, are Scorpion 7 and Paradise Point. If you don't have a gun yet, you'll probably find one there. As you go, replace your old clothes with new ones so you can carry more stuff. Before we move on to the next step, make sure you have a gun that can shoot far and do a lot of damage and have lots of bullets.
Surviving in Military base and Seattle
When you have a good gun and a lot of bullets in it and feel that you are ready to fight, you can go to Military base and big cities like Settle. If you want to fight, then go to settle; otherwise, go to the Military base and find some good quality loot. When fully prepared, you can go anywhere for quality loot and rare vehicles. This will increase your chances of survival on the Washington map.
Washington map airdrop location
Here is the image that will show you all the airdrop locations on the Washington map. Just look at the image below. All the red dots are airdrop locations in this map.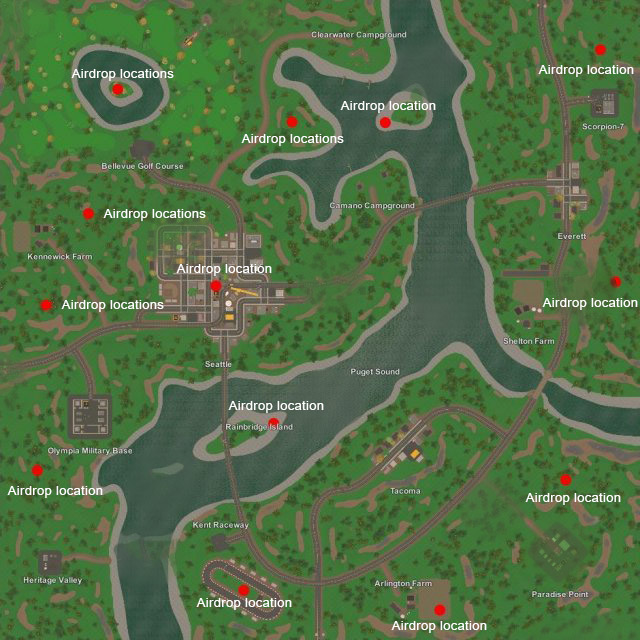 Best base locations on the Washington map
1. Kent Raceway
This is a good place to build a base when you're just starting. I have my base here, and it's safe from zombies. Few zombies spawn here, so your base will be safe during a full moon. This location is close to three places where you can find many valuable items: Heritage Valley, Paradise Point, and Olympia Military Base. This is the perfect place to do it if you want to take over the whole server.
2. Seattle Buildings
Building a base in Seattle is a good idea because of the new update that lets you build freely. The buildings themselves are very strong and can't be destroyed with an RPG, but the structures you build on them can be. A fuel tank on one of the brown buildings is great for fueling a helicopter.
The easiest way to build a base on the brown building is to build a bridge from the crane to the brown building. Once you do that, you can put a door on the crane using the new building update or the doorway already there.
3. Scorpion-7
You might think, why not build our base at Paradise Point? Because it's a dangerous place with lots of weapons. People will go there first after getting a gun. It's hard to defend against three people with guns. Plus, they could use grenades and C4 to destroy our base. Scorpion-7 is a better choice.
There are plenty of rounds for guns and sometimes military rounds. We can use those to our advantage. Scorpion-7 has a fuel tank, but we'll need to put some rain barrels for water. Few people go there, so it's less likely to be attacked. To be safe, we should build our base on the road or in the woods. It's the only place we can find a shadow stalker.
4. Shelton Farm
Shelton is a good base location because it's one of the only places where planes spawn in Washington. Remember that It's also close to Scorpion-7 and Paradise point. Shelton Farm has a unique feature similar to Arlington Farm, which has both a fuel tank and a well. The airfield seems to not have many zombies.
5. Arlington farm
The location of your potential base, much like Kent raceway, offers proximity to several notable areas such as Paradise Point, Heritage Valley, and Olympia Military Base. However, the primary benefit of building here is not for survival but for the ample building space available. The crop fields in this area provide a rare opportunity for constructing a large base without the need to search for the perfect spot.
While I do not have much information on the potential hazards of crop fields, it is important to consider the possibility of your base being vulnerable during a full moon. In addition to the build space, there is also a fuel tank and well available for use.