GTA V is a video game that came out in 2013 and is still getting updates today. This guide will teach you how to talk to Miguel Madrazo. The game has great graphics and lets you do many different things, like run a criminal empire, kill people, and steal cars. Recently, a new update called the Cayo Perico Heist was added to the game. To access the new story and missions, you need to talk to Miguel Madrazo. Follow these steps to find and speak with him in GTA V.
Who is Miguel Madrazo?
Miguel Madrazo is a character in the online version of the game GTA that was introduced in December 2020 as part of the Cayo Perico Heist update. He is the son of Patricia and Martin Madrazo and the heir to their family's criminal empire.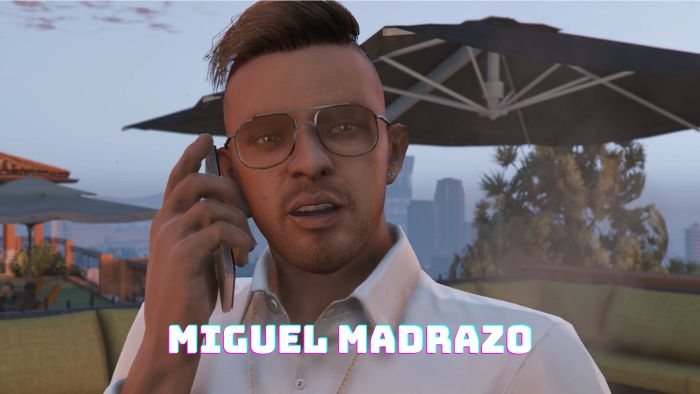 Miguel studied at the University of San Andreas in Los Santos and is a high-ranking member of the Madrazo Cartel. He has big aspirations for the future and believes he can make a valuable contribution to the family due to his youth, education, positive attitude, and unique perspective.
Miguel is close to his mother, Patricia and spends much time with her. Players first encounter him at The Music Locker in East Vinewood, where he contacts the player in late 2020 to discuss a mission to raid a compound in Cayo Perico, an island off the coast of Colombia.
Talk to Miguel Madrazo in GTA V
The Music Locker Nightclub
First, check your phone for a message from Miguel Madrazo. He wants your help with his family's business and wants you to meet him at Vip nightclub, The Music Locker. This place is located inside The Diamond Casino. And If you own a casino penthouse, you have the option to use the elevator to reach there.
Read also: How Old Is Qiqi in Genshin Impact?
But if you don't, you will need to buy one above the Diamond Casino. It will cost you at least $1.5 Million GTA Dollars, but if you have Twitch Prime and are connected to your Social Club account of Rockstar Games, it should be free. You need a penthouse because it gives you access to a VIP nightclub in The Diamond Casino & Resort's basement called The Music Locker.
Meet Miguel Madrazo
to access the Music Locker club in the casino, you can use the entrance on the north side. If you need help finding it, search for the green "H" labeled "Miguel" on your map." Once you're in the club, follow these steps:
Pay 150 dollars to enter the VIP nightclub. If you're dressed nicely, you might receive a very small discount.
Next, go down the stairs located to your left.
Then, go to the privileged section, and a bouncer will stop you and start a cutscene.
Here you can meet Miguel Madrazo and talk to him. You may have met him in other GTA V missions.
Following the cutscene, it will be necessary for you to acquire a Kosatka Submarine by purchasing it from Warstock Cache and Carry for a sum slightly above 2 million dollars.
Once you have acquired the submarine by purchasing it, you can then begin the Cayo Perico Heist quests.
That concludes all the necessary information on how to speak with Miguel Madrazo and access the Cayo Perico Heist quests in GTA V.